Rental Emergencies
---
We value your business however most all people that work for or at South Walton carts have a family. We work during the day and we are unable to come out at night. We only consider an emergency where we need to come out to be a wrecked cart.
We do our best to keep the newest nicest rental fleet but breakdowns are inevitable. 95% of all of our breakdowns have to do with electric carts were the battery is out of charge. Listed are helpful tips for after our breakdowns.
After 5 p.m. always bring your charge cord with you.
Cart charge meters are not always reliable. Sometimes meters will give false readings. To truly know if you have a good charge will be how long the charger was actually charging before you took the cart. 6 hours on charge is a full charge.
It is vital after hours to keep your vehicle charged. When in doubt plug it in when you're not using it. Confirm that the charger is actually operating.
If the cart starts to slow down or acts sluggish pull over somewhere safe preferably near a power outlet. Do not continue to drive the cart because when it finally runs out of charge the motor will lock up and you will be stranded in the middle of the road.
Again we value your business and if any issues do arrive after hours email us at
[email protected]
and put "Emergency" in the header. If we see the email come through that night we will do our best to respond if not we will contact you first thing in the morning when we open up.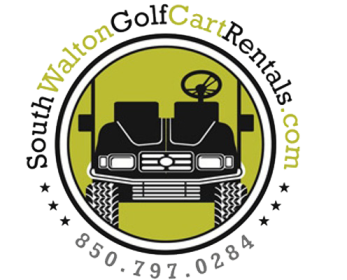 Frequently Asked Questions
1Are Golf Carts Allowed on 30A?
Street-legal Golf Carts are allowed on any street down 30A that is marked 35MPH or less. However, there are certain communities that do not allow parking for golf carts. Please see our "Restricted Neighborhood" page for more information.
2Are Golf Carts Allow on HWY 98?
Street-legal Golf Carts are NEVER allowed to drive on Highway 98. If you drive on Highway 98 you will most likely be pulled over, given a citation, and the cart either picked up by us or towed.

Once towed you are responisble for any tow and impound fees. The Rental Agreement with be voided and no refund will be issued.
3What happens if I get a ticket while renting my cart?
Getting a ticket while on vacation is always a drag. The most convenient way to pay a ticket from Walton County is to call and pay over the phone with a card to: 850-267-3066.

We ask that tickets be paid before returning home from your vacation to avoid any fees that are associated with non-payment of a citation.
4What happens if my cart dies or breaks down?
If you feel the cart start slowing down, try to pull over to a safe location off of any main roads and contact us immediately. We can coordinate getting the cart back to your residence to charge. If the cart is faulty and cannot be charged we will swap out the cart with a working one depending on availability.
Email us @
[email protected]
with the subject: EMERGENCY, and we will get back to you as soon as the office opens up.
If a cart has to be left at a location other than where you are staying that night make sure it is somewhere safe and that you have permission to leave it there.
Do not try to push pull or tow the cart unless you have called a professional tow company. That tow company will need to use wheel dollies on the back two tires. Any cart that is pushed pulled or towed other than by a professional will cause damage to the motor which you will be responsible for.
5What happens if I get into a wreck?
First, get a police report and exchange insurance information. Take plenty of pictures and get the tag number of any other vehicle involved. In these cases there is no such thing as too many pictures.

After that, contact us immediately by phone or email with the subject: EMERGENCY, and we will get back to you as soon as possible.
6Are peak season prices the same for non-peak season
Our non-peak season prices are heavily discounted so that guests may have the same great experience at a fraction of the cost!
7What if my cart is not charging?
If your cart is not charging first try another outlet. If that doesn't work make sure the break has not been tripped for the outlet being used.

If possible try to plug in the charging cord without an extension cord attached to see if the extension cord is the issue.

Make sure the cart is not in tow mode. Under the last front facing seat, there is the battery compartment, on the back wall (closest to the rear of the cart) there is a switch, make sure it is flipped to "RUN".

There could be a kill switch on your cart that is flipped. Under the dash sometimes there is a toggle switch. If your cart won't more or charge flip that and try again.
8How long does a full charge last?
On most of our carts a full charge should last about 25-35 miles. Make sure you plug the cart in when not in use to ensure your cart won't die while in use.

Gas carts should last the full rental period without having to fill up.
9Can I drink alcohol and drive a Street-legal Golf Cart?
No! Law Enforcement treat Street-legal Golf Carts the same as cars. You will most likely get a DUI and ruin your vacation time.

If you get pulled over for a DUI, the cart will either be picked up by us or towed by Walton County Sheriff.

Once towed you are responisble for any tow and impound fees. The Rental Agreement with be voided and no refund will be issued.
10Do I have to wear my seat belt in a Street-legal Golf Cart?
Yes! Law Enforcement treat Street-legal Golf Carts the same as cars. One person per seatbelt and they must be worn while the cart is in motion.

If law enforement sees occupants without restraints, you will most likely get a citation.

Ensure that you rent the properly sized cart or multiple carts for your party size.
Revo Charging Instructions